Week in Review section follows...but here is the
2000 YEAR IN REVIEW SUMMARY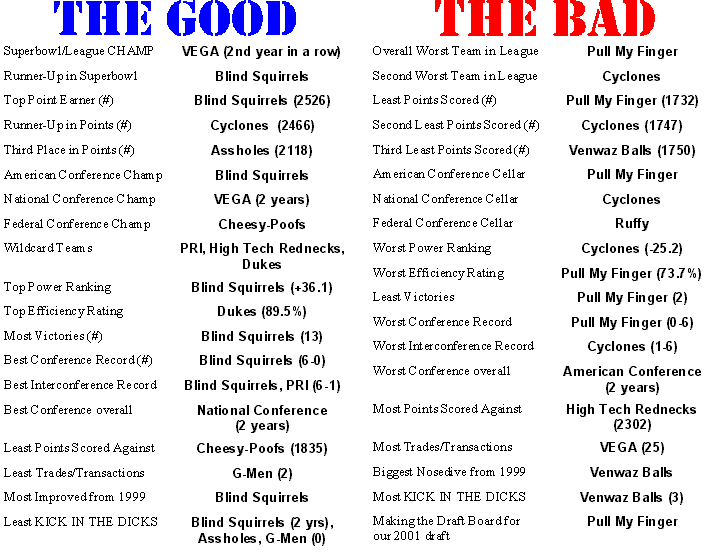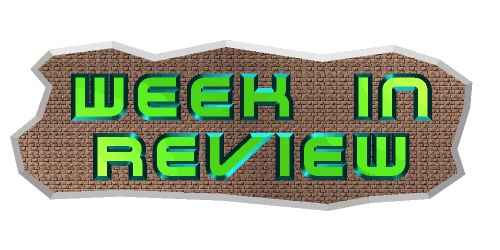 Last Updated through Week #12
BAD NEWS for you fans of the Week In Review...as you could tell from this past season, the updates were generally late and sometimes none appeared at all (i.e., weeks 13-16). Some of the problems were due to circumstances beyond my control, others were due to general lack of time and/or interest. The executive decision has been made to discontinue the Week in Review as it's own major section, effective immediately. The 2001 site will feature a similar front page interface with some very general info, putdowns, etc. on the past weeks games. This should be more than adequate will give me a bit more peace of mind during the season!
Week #12
Battle of the Worthless and Weak
Venwaz Balls 62, Pull My Finger 55. In a game that involved about as much excitement and scoring as your average soccer match, Venwaz pulls off the victory over the league's worst team…thus solidifying a third place finish at worst. Certainly their candyass opponents get the assist by leaving nearly half their potential points on the bench. The 'Finger certainly earns the Kick in the Dick this week and now looks forward to the Toilet Bowl. There's not much more to say about these two teams as it would be a total waste of everyone's time.
The Sun Certainly Shines Up These Guys Asses
Blind Squirrels 216, High Tech Rednecks 166. Oh, come on! 78 points from Ryan Leaf? The same guy who once had –15 one week in our league??? Hey, it could have been even worse as they still left over 60 points on the bench. Another 200+ point performance gives them an 11-1 record and extends their point total lead. Wait – didn't this team also lose Ricky Williams? Charmed fucking year, indeed. The 'Necks really, REALLY needed to win this one and had a great week…but now they face playoff elimination. They have to beat the 'Finger AND, gulp, cheer for PRI to win. At least one part should be easy…
Still in it, Baby!
Assholes 113, Cyclones 65. A team which has had a remarkable turnaround since their disastrous start sits on the brink of playoff hope, thanks to some cheesehead magic. They need a bit more of that magic and are cheering for the Cheesy-Poofs to knock off the G-Men this week…and of course they have to take care of business themselves against a suddenly strong PRI. Down to the wire! As for the 'Clones, they've clinched a spot in the Toilet Bowl, but could still end up even further down with a loss and a 'Finger win. So much for that early season restructuring.
Powerful Stuff
Painful Rectal Itches 202, VEGA 156. The two teams fighting it out for efficiency ratings put together a great game, with PRI needing a victory to get into the playoffs. Thank God for Fred Taylor, who really helped offset the stubborn VEGA tandem of Jeff George and Robert Smith. The 'Itches win their third in a row and depending on week #13 results will end up with wildcard spot #4, #5 or #6…guaranteed. VEGA didn't have much to lose in this one other than a few extra bucks, since they already clinched the division title. So much for the wedding gift…sorry Marc. However, they still need to win in week #13 to lock in the #2 spot – and bye week.
Too Little Too Late?
Ruffy 159, G-Men 98. Has anybody told Ruffy lately that they suck? OK, I will. They SUCK. However, that still didn't deter them from pissing on the foreigners potential playoff parade with this surprisingly easy victory. The Baltimore duo of Dilfer & Lewis helped 'em cruise to their whopping fourth victory of the season. Sorry guys, you're still ending up in last place in your conference. Maybe next year if Brett wises up and dumps Larry. I can't understand the G-Men…rarely turn in a lineup or pay attention, yet they still have a shot at making the playoffs. It's a longshot mind you – beating the Poofs and hoping to god that PMF shakes off the rigor mortis and beats HTR – but anything is possible. Imagine if they would have drafted an impact player in the 4th round, rather than the Fat Polock. Live & learn, dorks.
The Tides Have Turned
Cheesy-Poofs 152, Dukes 86. Gotta hand it to the Poofs…nobody, not even themselves, would have thought they'd be in first place in their conference after week #6, when they were 2-4 and the Dukes were 5-1. Since that time it's been a total turnaround for both teams. The Poofs seem to be loaded from top to bottom, and even losing Trent Green in a couple weeks won't really matter. Unfortunately the Dukes can't say the same as their blind luck long ago ran out…and they're currently in their expected late season slide. However, as luck may have it, they've managed to backwards-ass make their way into the playoffs where they should be early round practice fodder. In Week #13 The Poofs can clinch the division with a win or Dukes loss, the Dukes need to win AND the Poofs to lose to win the Federal. Stay tuned…
---
Week #11
Still dominating, but for how long?
Blind Squirrels 138, Cheesy-Poofs 86. The Squirrels rack up another impressive performance, officially clinch the American conference, and reach ten wins in eleven games…of course in this one a little help from their opponent didn't hurt (see Trent Green, below). Six of eight starters hit double digits, a good thing. BAD thing is they're now minus not only a QB but also their top running back in Rickey Williams. Scouting the bench for help…nope, none there. OUCH. If there's been any negatives for the Squirrels this year, it's right now. The Poofs squander an opportunity to remain tied for the Federal conference division title by blowing this game, which can be summed up in four words: starting Grbac over Green. That 54-point swing would have put them over the top. Oh well, maybe next time, dummies...but all is not lost, as they play the Dukes this weekend with the winner taking over first place. Big game, indeed!
Can you friggin' believe it?!?!
G-Men 139, Venwaz Balls 92. At the beginning of the season if anybody would have predicted after 11 games that Venwaz would be low scoring and have a worse record than the G-Men, you would have thought they were fucked in the head. Well, the odd thing is that's what's happened. The 6-5 G-Men are also not only in the playoff hunt but could, with some luck, win the Federal Conference! A relatively balanced attack (6 of 8 players in double digits) helped them cruise to this surprisingly easy win. Hey Peter, it's being done WITHOUT the Polock kicker! They're hoping to knock off the awful Ruffy and are cheering for the Poofs this weekend…that could possibly set up a winner-take-Federal game in week #13. Venwaz, at 4-7, is having a season worth forgetting. They're virtually out of the playoff picture, they're #9 overall in point scoring, yet they're probably too good to get a blind shot at the Toilet Bowl. Perhaps a shot at the efficiency title is possible but there's six weeks left 'till that's determined. Too bad they can't play two QBs as that may have helped 'em this week. Hosting the worst team in the league this weekend could win them back some pride…well, not really but I'm really reaching here.
A Clinching Win
VEGA 138, High Tech Rednecks 89. Quite a few people, including Mark himself, figured that VEGA was doomed once Warner went down with a sore pinky. So much for that theory, as they win their third straight Kurt-less game. Oh, I should also mention that they officially clinched the National Conference as well. The Smith Brothers RB tandem did wonders again, and Aikman gave them a nice surprise with 34 points. If they can keep it up they also may have a chance at passing up the crippled Squirrels for the overall point lead…in a few weeks. Next up is the commish and a motivated PRI, who need this win bad. The best thing about the Rednecks is that they avoided grabbing a league leading third Kick in the Dick…but they still drop their fourth game in five tries. This week it's the 'Pepper again leading the pack, providing over half their total points. Too bad the rest of their team sucks like their owners do to each other when getting together to discuss another shitty transaction or lineup. At least they have Venwaz and PMF to stop their freefall towards the cellar. 6-5 and staring at the Blind Squirrels this weekend. Buh-bye, now.
Still some life in the "left for dead"
Pull My Finger 166, Cyclones 84. I guess it was inevitable that the 'Finger would break out with a big game…just didn't think it would happen this season. Also didn't think it would involve 51 points from Ike Hilliard and 43 from the New Orleans D (one of the only bright spots on this team). They finally end their SEVEN game losing streak, which dates back to after they beat the Cheesy Poofs in week #3. Could they make it two in a row vs. Venwaz this weekend? Only the hardcore really give a fuck. Speaking of hardcore, if the Cyclones were a porn film they'd be pg-rated due to lameness. "Officially" falling to the #12 spot in point totals, and by looking at their lineup it doesn't appear much brighter. As with Venwaz, a shame they can't start more than one QB as all four scored double digits. Hey, at least they played the right one. The commish is still shaking his head in disbelief that the 'Itches lost twice to these suckwads. So next week it's the suckwads vs. Assholes – now THAT'S the makings for a sick porn flick!
More $$$ and a good playoff shot
Painful Rectal Itches 137, Ruffy 117. The 'Itches knew their season was on the line in this game, but fortunately came from behind on Monday night for the victory. Thank you, Rich Gannon…and also a big thanks for Wheatley for having an owee on his ankle & not playing for the date rapers. PRI is now $10 per owner richer due to more side action – we may have covered all transaction costs by now. With this team holding the tiebreaker edge on the other 6-5 teams, the game vs. VEGA this weekend looms large. Ruffy gave it a shot with four starters racking up 20+ points each, but OH, if they only had started Pittman over the injured Wheatley! We've determined it's probably Larry's fault, as he's been the only consistent factor in Ruffy's yearly losing tradition. At 3-8 they're guaranteed another last place finish (in the Federal) this year, and as the #10 team overall are currently seeking that at-large bid for the Toilet Bowl. Nice job again this year, and glad to collect your $$$.
Must-Win ends the slide
Dukes 124, Assholes 98. The Dukes finally strap on cocks and end what could have been a disastrous turnaround of fortune after starting the year 5-0. Big days from their RB duo and six of eight players in double figures did the trick. They remain on top of the Federal by a game with two to play, but a crushing blow was announced today with Brian Griese going down and out for the rest of our year. Quick bench check – Brad Johnson (not starting) and Randall Cunningham (old, crappy and not starting). Oh, oh, bad timing with the Cheesy-Poofs on their ass and playing them this weekend. Perhaps that lead ends after all. Well, the Assholes had no punch at all in this loss, which is usually a given when your kicker is your leading scorer. Unfortunately this may have been a crushing blow as their slim playoff hopes have now been made even more difficult to obtain. Fortunately they draw the Cyclones this weekend (almost a guaranteed win) then face PRI for a possible playoff berth. It ain't over 'till it's over, but with their suspect lineup perhaps that's being a bit too positive.
---
Week #10
Poofs on a roll
Cheesy-Poofs 169, Cyclones 66. The Poofs haven't lost since week #6, winning their last four games and pulling into a first place tie in the Federal conference with the now mortal Dukes. I would say Trent Green is a godsend, but Elvis outperformed him again on the bench! The real plusses are guys like Antonio "Nobody touched me" Freeman and Derrick Alexander. They look tough now, but we'll see what they're really made of in the next couple weeks against the Blind Squirrels and Dukes. Gut check time for sure. The Cyclones have no guts and only seem to rise to the occasion when playing the commish's team (whom they've beat twice this year). Leaving nearly half their potential points on the bench won't win you many games…then again neither will scoring 66 points in a week. They owe the Rednecks some sort of sick favor for keeping them from the low score. Good news, as they meet the league's worst team next week in what could be a preview of the first annual Toilet Bowl. How special.
We don't need no stinkin' Warner
VEGA 207, G-Men 83. One could argue that they had a weak opponent, but that doesn't really matter when you score over 200 points. Twin 47-point performances from the RB "Smith Brothers" tandem and a total of six players in double digits pretty much guaranteed victory over anyone. Jeff George? Feh. Kordell Stewart outperformed him. They may still have a temporary QB problem (and why start Laveranues Coles???) which COULD cause problems against HTR and PRI in the upcoming weeks…but then again we thought they'd sink fast two weeks ago. What can you say about the G-Men? Well, they're 5-5 and only a game out of first place in the National! Perhaps if their owners would friggin' wake up and NOT play bye week guys (McCardell) and dump the injured fat Polock (Janikowski) they'd actually make a run at it. But hey, don't listen to me…I've never won anything in this league.
Too close for comfort
Painful Rectal Itches 153, Pull My Finger 130. What was hoping to be a blowout and return to respectability was at least a win for PRI, who even out at 5-5 and keep playoff hopes alive. Gannon and Davis are saviors again as six of their players hit double digits. Good to see three starting QBs on the roster that all seem to be contributing – hey VEGA, make us an offer! Every remaining game is a big one for this team who's 0-4 in the National conference (D'OH), but they get the Ruffy homos this week. Do I hear side action, pussies? As for "The Finger", this painful season seems to keep getting longer. At 1-9, I believe one more loss will assure them of a spot in the Toilet Bowl as they make a run for the worst record EVER in SFFL history. Go, go, go!!!! Hey, at least they got Terrell Davis back, and Emmit is running well as usual…so perhaps we can expect a turnaround? They ARE playing the Cyclones, so anything is possible.
Another Fisting of the Rednecks
Assholes 190, High Tech Rednecks 63. The 'Holes are definitely making a strong late season run for the playoffs with four impressive wins in their last five games. This week ALL EIGHT starters hit double figure scoring, led buy a rejuvenated (and pretty fucking lucky) Brett Favre. It always makes the victory better when you beat your bitter rival, so bragging rights for the year are with Sneed & Fletcher. This week they can help out the 'Poofs by knocking off the slumping Dukes. I honestly think the 'Necks enjoy taking a calloused fist up the caboose…the second blowout against them in three games, which also conveniently corresponds to their two Kick in the Dicks! Here's some good stats for this week: Corey Dillon, 2 Pts. Marshall Faulk, 0 pts. Darnell Autry on the BENCH, 30 pts. Nice choice of starters, dumbasses. At least the 'Pepper hit double digits but it didn't offset the three goose eggs laid by starters. They conveniently play a hot VEGA team this weekend…oh, oh.
Looking "Ruff & Tough"
Ruffy 159, Venwaz Balls 82. You have to admit that Ruffy isn't going anywhere and most of the flak they get they deserve. BUT, every now and then what seems like a stupid move actually works out in their favor. Starting Jeff Blake & Jamal Lewis may seem odd, but they both put up big points that helped 'em to victory this week. It also doesn't hurt that their opponent welcomed the trouncing with spread-eagle legs. Ruffy improves to 3-7 and may have actually endangered their chance of playing in the Toilet Bowl! PRI is looking forward to this upcoming weekend. What the FUCK has happened to Venwaz? Outside of Kerry Collins this week, their team looked like Ca-Ca. They're not scoring many points, and losing to Ruffy puts them at 4-6 which makes every one of their upcoming games a must-win. Doesn't hurt that the next two are against Pull My Finger and G-Men…but time to pull your heads out of your asses, fellas.
Who's Your Daddy!
Blind Squirrels 172, Dukes 95. Ho, hum…another big win for the Squirrels, who have looked like wordbeaters since their one loss to VEGA in week #5. This one was against a division leader and it was no contest. Joe Horn, Edgerrin James and Jim Miller (yes, you heard right) were the standouts…172 out of 174 possible points, and they still maintain a decent lead in the overall points race. They get a tough Cheesy-Poofs team this coming week, and a win would guarantee a division crown. Motivation enough? On the other side, the Dukes are like an ebola virus victim, bleeding out of all orifices. After a stellar 5-0 start and big lead in the Federal, they've lost three in a row and four of their last five. OOPS, and now they've lost a starting WR, the Rocket. Even if Brian Griese continues to have a great season, these guys could still end up behind the Poofs AND G-Men if they don't get their act together. Don't say I didn't make the call on this train wreck…
---
Note - the Week #9 writeup is incomplete as of 11/2...it may be added this coming weekend or just blown off entirely.
---
WEEK #8
ALMOST an upset…
Blind Squirrels 160, Ruffy 152. Give 'em both a hand, the Squirrels for winning their seventh game in eight tries this year, and Ruffy for actually being competitive against a tough opponent. The McNown "gravy train" is thankfully over – actually that was over after week #1…but with arguably the best RB tandem in our league – Edgerrin James & Ricky Williams – they have seemed unstoppable. Unless something unusual happens, like losing Kurt Warner for example, they could be a lock for the #1 point total this year. Ruffy gets a thumbs up for gathering big days from Tyrone Wheatley and Isaac Bruce, but also deserve a slap 'cross their fool heads for starting Jeff Blake over Drew Blesdoe, which would have won the game for 'em. Then again nobody's arguing that they deserve to be 2-6, and we all know why.
Let the slide begin
Venwaz Balls 168, Dukes 128. After their week #7 debacle, Venwaz bounces back and almost looks like a contender again. Marvin Harrison has his typical huge day, and James Stewart has an atypical great day. This at least made up for the wonderful doughnut that the overrated Alstott put up as a starter. However, in this nice win a bit of pain must pass – Albert Connell has a 79-point day on the bench. It's safe to say that Venwaz's once spectacular efficiency rating has gone down faster than Dave Bockman in a San Francisco bathhouse. On the other end, the once mighty Dukes have lost two of their last three (and barely got by Ruffy in that win)…yet there still appears to be some sparks with Brad Johnson, Chris Warren, and Rocket Ismail. OOPS, they were all sitting on the bench. They have a chance for redemption against a not-so-bad G-Men team, which almost becomes a must-win if they want to maintain a comfortable lead in the Federal conference. Don't bet on it.
Nothing is finer than fisting a Redneck
Painful Rectal Itches 185, High Tech Rednecks 98. Can you say blowout? Six of PRI's eight starters hit double digits as they lead week #8 in scoring and climb to #2 in overall efficiency ratings. Just a reminder to the league…PRI is the three time defending champ in this rating category, winning two championships during those years…just in case anyone has forgotten. Actually it appears the 'Itches now have four starting RBs, a rarity. Perhaps drawing the awful Cyclones in week #9 may finally get them over .500? Everyone's already read the website headlines congratulating the Rednecks for not starting Corey Dillon in his 78 point, 278 rushing yard performance, but it's worth mentioning again 'cause it's so fucking funny. By the way, Darnell Autry (who started in place of Dillon) was close with 12 points. Outside of the 'Pepper, this team is starting to look a bit less like a contender and more like the 'Necks of old. However, it will be a challenge for them to knock PMF out of their cellar spot. Think they're up for the challenge? Well, regardless they enjoy a KICK IN THE DICK for week #8, plus some additional cash lost to PRI. Yes, Fletch…we're using the whole fist.
Attempting a Massive Turnaround
Assholes 174, Pull My Finger 119. At one time left for dead, the 'Holes pull even at 4-4 with a trouncing of the league patsies. Backup, never-should-be used QB Jay Fielder (yes, Fielder) lights 'em up for 47 points and Big Nose Gramatica has a great day to lead the charge. Go figure. The big game comes up this weekend, where the Assholes could actually take over the National Conference lead with a victory over VEGA. Hey, anything is possible…with the exception of Pull My Finger actually fielding a decent team. At least Beurelein and Emmit Smith had decent days, as did Wayne Chrebet while sitting on the bench. Good news – they've officially locked up a losing season and are out of contention in the American Conference. Last in points, power rankings, efficiency rating and hope…the Bears of the SFFL. Just when you thought it couldn't get any more pathetic, they get to play the Blind Squirrels this weekend. Fuck, just put a gun to their heads and pull the trigger several times…same effect.
Oh, oh…somebody hurt their pinky
Cheesy-Poofs 134, VEGA 116. The balls are really bouncing in the Poofs favor nowadays…they've won their last two games, the division leading Dukes are struggling, they're getting great performances out of KC players, and best of all Kurt Warner goes down while playing against them. Oh, and as a HUGE bonus, guess who has Trent Green??? They may not get 30+ points out of Biakabutuka every week, but it doesn't hurt to have a St. Louis QB. Speaking of hurt, that's VEGA to a tee. The only reason they didn't get another Kick in the Dick was due to an insane, once-in-a-lifetime game from Lamar Smith. With their big gun Warner down & out for probably the rest of the SFFL regular season, they have, er, Tim Couch and whatever dregs they can pull up from the Waiver cesspool. A few key players on bye week for 'em as they face the suddenly mighty Assholes. A hurtin' indeed for the former and certainly not repeating league champs.
Three Cheers for the Foreign Bastards
G-Men 152, Cyclones 140. OK, not fair as both the owners are NOW U.S. citizens, but the surprising G-Men are playing almost well enough to contend in the Federal conference. Sure, it certainly helps when Peyton Manning scores 62 points AND you're playing the Cyclones…but Jerome Bettis appears to be somewhat back, which also helps. They get a chance to prove if they're really men or skirts this weekend against the conference leading Dukes. Amazingly the 4-QB deep Cyclones still put up some resistance, with the likes of Sammy Morris and Tim Dwight. Of course Garcia is a nice surprise this year, but please someone tell me who the fuck is Brian Mitchell? The 'Clones get a chance at redemption for all these putdowns this weekend against a motivated PRI. Lookin' forward to it!
---
WEEK #7
A True Ass Pounding
Blind Squirrels 207, Venwaz Balls 58. Kenji said as he turned in his lineups, "We're gonna lose this week." Not only did his team take it in the ass, he swallowed the load known as the Kick in the Dick. The Squirrels appeared unstoppable yet again, racking up their first 200+ performance (believe it or not). When your RBs score 98 combined points you won't lose many games. Actually Edgerrin James beat the 'Balls all by himself, and the 'Squirrels move to an impressive 6-1 mark while remaining tops in scoring. Venwaz just sucked huge cock, getting little production from their players and shortening their efficiency rating lead. Good to see Fumanchoo-Ma'Asucko produced so well…a great pickup guys, $3 for 0 points.
Still Keeping Pace…how long can it last???
High Tech Rednecks 126, Pull My Finger 101. The Rednecks enjoy a couple big days from "The Pepper" and Marshall Faulk…in fact these two were 80% of the teams total points for the week. How sad to see the Wilkins twins combine for two points. I guess another kicker may be on order? 5-2 puts them one game behind the 'Squirrels…looking ahead to week #12? Pull My Finger continues to pull their puds as they slide to 1-6. Terrell Owens and the New Orleans D were the star players…enough said. Oh, but it's good to see Jason Elam back in the game with 31 points on the bench. D'OH.
Figures we'd Catch 'em on their best day
Assholes 178, Painful Rectal Itches 136. Actually it was the 'Holes second best game of the season, but it was plenty good enough to vault them into second place in the National Conference. Six of their eight players were in double digits, led by Curtis Freakin Martin. The 'Holes are $10 per owner richer due to their annual bet with PRI. Speaking of which, the 'Itches weren't too terrible, just played the wrong team this week. I know some of you out there are saying "Gee, you're sure going easy on your team." Well, no shit Sherlock. Kiss my ass if you don't like it, and have a nice day. Anyway, PRI falls to 3-4 and starts looking desperate. Can they derail the sodomizing Rednecks in week 8? Sure hope so…
A Surprising GAME OF THE WEEK
VEGA 170, Cyclones 167. One of the SFFL2000 league patsies gives the defending champs a hellava game, almost winning it on Monday Night. The 'Clones Jeff Garcia outshines VEGA's safety blanket Kurt Warner, but with Robert Smith and the Denver D also putting in good numbers, VEGA comes out on top. 5-2 gives them a two game lead in the not-so-terrific National conference. Kudos to the 'Clones who almost pull the upset with unsung heroes such as David Boston and Dorsey Levens. Damn, if they only played Tim Dwight as opposed to the worthless Amani "It's not a" Toomer, they wouldn't be looking up at the three other teams in the National. Guess these submissive bitches like being on the bottom.
A Resurgence of the Suckwads
Cheesy-Poofs 177, G-Men 114. Imagine a world where you can get a goose egg with one of your RBs, be starting Elvis Grbac along with some decrepit Green Bay players and still score nearly 180 points. Welcome to Cheese Land, home of the now 3-4 Poofs. Overall they did look pretty good, especially with the Jets D scooping up 45 points (whatever happened to defenses being scaled down???). Second place in the Federal Conference ain't bad, but they're still three games behind. The G-Men, also 3-4, seem to be reverting to their normal selves. A few good players for the week, but some underachieving stars hurt 'em. AND…the big Polock kicker gets benched and finally hits some field goals. Peter, force a burger down the throat of that Indian partner of yours for that one…just for snicks.
C'Mon, Leon left the team…you should be better!
Dukes 124, Ruffy 111. Outside of Brian Griese and Charlie Garner, the sometimes mighty Dukes looked rather vulnerable - in fact downright terrible - as they upped their record to 6-1 for the season. Well, you can't argue with success, as surprising at it may be. However, the inept cocksuckers called Ruffy come up about as short as their peckers. Well, perhaps it wasn't all their fault since Moss and Bruce underachieved this week, and Bledsoe, well, is Bledsoe. It's just fun to pick on 'em, especially when the opposing team doesn't score 300 points against 'em. Ruffy assumes their regular position of last place in their division (Federal). Hope you have some extra cash set aside for the year end party!
---
WEEK #6
FALL OF THE UNDEFEATED
High Tech Rednecks 121, Dukes 93…it's about time the Dookies took a loss, and they did it at the hands of the improved 'Necks who seem to have finally shed their yearly losing ways. It was a huge come-from-behind performance on Monday night from the Pepper – Dante, that is – and a surprisingly good outing from Corey Dillon. Two goose eggs in the starting lineup…who would've thought they'd pull it off? Well, the Dukes bent over like the bitches they are and suddenly don't look so tough. Brian Griese? Bah. Let's see how they stand up through the rest of the season. Could this have been the beginning of the end? It was in '97…
THEY JUST KEEP GETTING WORSE
Ruffy 161, Pull My Finger 56. Gee, imagine the butt of all jokes last year pounding their fists deep into the anal crevices of a once decent franchise…and PMF basically begging for it! Despite missing Isaac Bruce and starting three New Orleans players (yes, three) with one of them scoring ZERO, they come up huge with the likes of Jeff Blake and Randy Moss. Pull My Finger never had a chance…or did they? Well, if the dumbasses would learn how to start the right players once in a while perhaps they wouldn't be the worst team in the league at 1-5. Perhaps if Testeverde wasn't such a pussy they'd broke sixty points. Perhaps they fully deserve the Kick in the Dick this week. Enjoy.
BACK TO MEDIOCRITY
Painful Rectal Itches 140, G-Men 82. Both teams are now at 3-3, how special. The Commish's PRI get a much-needed boost from Rich Gannon and continue to ride the Stephen Davis train. "We're not back just yet" says my svelte partner Gene, but another win at least puts us in the black. Great things may not happen, but we'll take a playoff berth. The G-Men actually had a winning record until this week…and they also had $40 more dollars in their pockets that they now owe PRI. Such a shame that Peyton Manning can't carry them every game like VEGA'S Kurt Warner. Hey, but that 4th round pick of Sebastian Janikowski is looking sweet…ten points and a couple missed FGs. Bench kicker Matt Stover had 30 for the second straight week. Hey Peter, nice fucking draft!
LOSING RECORDS POWERGAME
Assholes 118, Cheesy-Poofs 112. Give the 'Holes a hand, for perhaps the first time this season they actually looked like a good team again. Despite starting a bye week player, they knock off their opponent with four starters from the NFC Central and a sleeper WR. Heck of a come from behind win with the Monday night performances, and it's good to see Sneed win a game after the tough times in the hospital. The Poofs drop their fourth straight and look about as solid as the Bears. Eddie George is a bright spot, but they'll have a QB controversy with Grbac playing well & coming off a bye week. Who will they play? Does anybody care? There's an excellent chance that both the G-Men AND Ruffy will finish ahead of these clowns come season's end. Stay tuned…
VIRTUALLY A PERFECT WEEK
Blind Squirrels 198, Cyclones 69. The leagues top scoring team manages a perfect efficiency rating while fist fucking their completely hapless opponent. The Squirrels hit on nearly all cylinders with four players scoring 30+ points…in fact the lone disappointment was Cade McNown (also shared by Bears fans). Perhaps it's time to abandon that sinking ship, but with a powerful supporting cast the Squirrels will continue to rock. The Cyclones, on the other hand, continue to stink. FOUR QBs on their team and they start the guy who does the worst. Tiki Barber is looking very human again, and with the loss of Duce Staley they don't have much in terms of RBs. Actually they don't have much of anything, and since they can't play all their quarterbacks each week it ain't gonna get better. A mercy killing is long overdue.
TOLD YA WARNER WAS YOUR TEAM
Venwaz Balls 130, VEGA 70. The 'Balls regain some respectability at 3-3 and another stellar efficiency performance. James Stewart and their receivers looked pretty sharp, but their QBs did not. Sure, Brunell may be benched, but they got Kerry Collins…right? Well, if Alstott can strap on his sack again they may not be too bad, but they're still in third place in their division. VEGA looked like a bunch of sissies without big, strong Kurt Warner to carry them to victory again. Better hope this guy stays healthy all year, as Couch ain't a star replacement. Two goose eggs in the starting lineup, and Ed McCaffrey was the team leader this week. Enough said.
Note - week #5 has been skipped as it's old news at this time.
---
Long awaited, but here are the brief WEEKS IN REVIEW, through week #4. Going team-by-team for this writeup just so that we're all caught up.
ASSHOLES (1-3, 1-1) - one of the four "jewels" of the National conference looks more like a lump of coal. Off to a quick 0-3 start isn't the way to start the season, but a thorough wakeup & thrashing of the Cyclones in week #4 may have somewhat put them back on track. Well, it didn't take long for them to start hoarding RBs again (SEVEN on their roster going into week #5), but most are second tier at best, and you can only play two at a time. Curtis Enis as their #3 draft pick overall looks like a real winner. If Favre can put up some decent numbers, if they can get some receivers and raise their woeful efficiency rating (second worst in the league) , it's possible for the 'Holes to end up somewhere close to .500 for the year.
BLIND SQUIRRELS (4-0, 2-0) - why doesn't it seem like a surprise that B.S. appears to be a strong team yet again? Through week #4 they're only one of two undefeated teams, rank #3 overall in point totals and #2 overall in Power Rankings. Amazing that they're doing it with the likes of Cade McNown and what would appear to be a questionable receiving corps at best. Regardless, Edgerrin James & Ricky Williams have been solid so far this year…and they're beating their opponents by an average of 46 points per game. Will this continue? Probably not, but they seem to be the odds-on favorites to take the American conference title unless one of the other sissies step up.
CHEESY - POOFS (2-2, 1-1) - they started off "strong" so to say by knocking off perennial powerhouses Ruffy and the High Tech Rednecks, then faltered with a 48 point performance vs. PMF and the Dukes freight train. Their team overall appears to be rather solid, with three good RBs, a variety of WRs and an excellent 9th round pick with Tony Banks as a good starting QB. It also doesn't hurt their chances of making a title or wildcard run, as they share the Federal conference with the G-Men and Ruffy.
CYCLONES (1-3, 1-1) - another usually tough team appears to be treading water in the toilet of the National Conference. Their lone victory of the year was in week #1 over the equally bad PRI…and they haven't broke the 100-point mark since. What's the problem? Arguably the worst draft anyone could have (McNair #1, Westbrook #3, Levens #4…the list goes on & on), then performing a high colonic on their team that included ten transactions in two weeks. This has left them with four QBs - three of which were not drafted by anyone - and a mishmash of other dregs. The lone bright spot is the RB position with the surprising Tiki Barber and Duce Staley. Last in Power Rankings, last in efficiency and last in total points scored…this has already been a painful season for the 'Clones and it will only get worse.
DUKES (4-0, 2-0) - "WOW" really sums up their stat, as they have looked fully in charge of the league since the season began. With an average margin of victory being 64 points, that's not too shabby. Their team really isn't anything spectacular, with Brad Johnson & Brian Griese as their starting QBs and a questionable RB situation (though it does feature a reborn Charlie Garner). However, their receiving corps looks tough and they do have good special teams. Despite drafting Raymont "he's going to be the starter in New England" Harris, they put together a team that will probably contend despite their propensity to collapse just about every year. Remember, both the G-Men and Ruffy are also in the Federal Conference, which is always a nice gift.
G-MEN (2-2, 1-1) - perhaps this may come as a surprise, but this isn't a terrible team. Not a great team in any sense, in fact they're not really very good, but they could easily challenge for a .500 record. Having Peyton Manning and Cris Carter are virtual instant big points every week, throw in a couple promising rookie RBs for flavor and some other potentially consistent WRs and they'll win a few games. Offsetting the absolute asinine pick of Sebastian Janikowski as a #4 draft pick is a hefty chore that will probably cost them a shot at the playoffs, but if they keep on the #2 efficiency rating pace that will at least help them win some games. I must say it's good to see Peter getting involved early and often. Will that help? Maybe.
HIGH TECH REDNECKS (2-2, 1-1) - after week #1 they were undefeated, which I believe is their best start ever. This is an interesting team that, like one of it's owners, could go both ways. Any team that features Marshall Faulk is going to get consistent points every week but the St Louis bye, and they appear to be deep at the QB and RB position overall. Unfortunately their receiving corps is questionable, and as of week #4 they have little choices in their unspectacular special teams category. If their overrated #2 draft pick Culpepper can learn to throw a pass, and they pick up some additional consistency in their weak areas, they could give the Blind Squirrels a run. Then again, it is HTR. Never set your sights too high.
PAINFUL RECTAL ITCHES (1-3, 0-2) - painful is the key word in this name. The commish's team again struggled with a RB problem through the first few weeks (sounds like last year), but with almost everyone healthy they score a league low 45 points in week #4. There are a few potential game breakers on the roster (Davis, Taylor, Moulds), and on paper the team appears pretty solid, but that never seems to mean anything. Right now the two-time league champs are barely afloat at #11 in both power rankings and total points. Fortunately three of the four teams in the National conference are also 1-3, so the white flag hasn't been raised just yet. However, it's become mission critical - If PRI can't turn it around in the next couple weeks, put a fork in 'em.
PULL MY FINGER (1-3, 0-2) - no question, this team is suffering from an identity crisis. Will Terrell Davis & Emmit Smith be the top players of old or will they barely contribute? Will a real WR please stand up? So far this year it's added up to a miserable 1-3 start in what may be the toughest division in our league this year (American Conference), where they are the lowest scoring team. The best thing that's come from this potential train wreck is the color commentary I get during each lineup submission. You gotta have a sense of humor.
RUFFY (1-3, 0-2) - guess what, the owner change didn't help as they suck again this year. There is some good, as they do arguably feature the best WR group of any SFFL team (mostly through the draft). Unfortunately Drew Bledsoe is their top QB, and with a sporadic running game at best they really won't go too far. Also, again being the team most scored upon, #10 overall in points and Power Rankings & average in efficiency isn't going to get them anywhere in a conference that has the #1 scoring team. Look forward to the week when you play this cesspool.
VEGA (3-1, 2-0) - a solid start this year for the defending league champs is being led by Kurt Warner…no surprise there, right? Currently standing at #2 in total points scored, and #3 in Power Rankings & Efficiency bodes well for the short term. The question is whether or not some of the other players - especially the suspect RB group - will be able to help sustain another drive to the Superbowl. VEGA will certainly benefit from what appears to be a weak National Conference, but overall this doesn't appear to be as solid a team as last years champions. Also, loss of one star can be too great to overcome, and since Warner is averaging a ridiculous 40% of this teams point output, better hope he stays healthy!
VENWAZ BALLS (2-2, 1-1) - year in and year out the 'Balls always seem to be one of the top scoring teams…but this year may be an exception. Despite losing high draft pick Galloway, Harrison is again one of the best, and 7th round pick Brunell is performing extremely well. Unfortunately this team consists of too many role players and question marks. If a #2 draft pick such as James Stewart can actually pan out, Venwaz may inch out HTR for a wildcard spot. However, they've lost to them once already and managed a meager 88 points vs. a bad PRI team in week #3. This doesn't bode well when they are far & away the most efficient team through week #4 (an amazing 97.3% mark). It will be another nail biter of a season for Chris & Kenji.