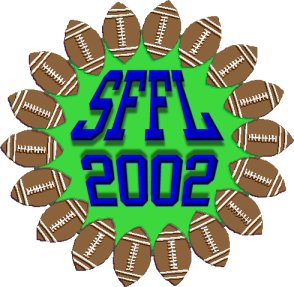 Last Updated (EST):
Monday, January 27, 2003
The PLAYOFF LEAGUE FINAL STATS are now available through the links below. Congrats to Doofy (Gene & Bryan) for their second straight year of winning this league!
Final 2002 league notes are below. Hey, you like the countdown clock at the top of this page?
---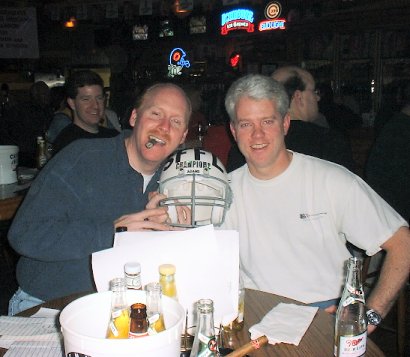 The ASSHOLES win their second SFFL championship, first since 1997!

PLAYOFF LEAGUE!
Through 1/26/03...Tampa Bay blows 'em out for the title!
Top two teams earn $$ (first = $250, second = $100)
1. DOOFY (393 points) - four Superbowl players earn 80+ points, they end up winning it easily.
2. Warpigs (357 points) - big lead after first week, enough to hang onto second place.
Two streaks going on...Doofy (Bryan & Gene) win this league for the second straight season. BTO (Dave Bockman) finishes in LAST place for the second straight season. Nice job to both teams!
STANDINGS ROSTERS Final Breakdown
Week #20 Breakdown Week #19 Breakdown Week #18 Breakdown
---
January 24, 2003
A final league writeup for the year...
Most interesting tidbits of info were outlined in the year-end writeup handed out at the party, along with the $$ breakdown details. Remember that numerous league stats (prior weeks info, etc) are also available on the Links & More page. I'll likely add in some of the league pictures from the party when I get the chance...still need to do some formatting on 'em.
I wanted to give a few props where they are due...the ASSHOLES, who were our big winners of the year (and won more at the party), contributed $300.00 to the league year-end party! Also, FUMUNDA CHEEZ tossed in an additional $80.00 to the cause. Though this type of generosity is neither necessary nor expected, it certainly helped in keeping the up-front cost for everyone at a meager $20 per head...so at the end of the day nobody got shafted. THANKS to our winners for the contributions!
This site will remain the same for the 2003 season, so you need not change your bookmarks & can check back here for updates. Some of the new rule changes/additions and other league info will appear here, but I will probably send out an occasional reminder e-mail as well. Looking ahead, we tentatively have the THINK TANK planned for Saturday, August 9th and the DRAFT DATE planned for Friday, August 22nd (you can track the draft time by the "countdown clock" at the top of this page).
Below are some of the final stats, standings, etc. on the 2002 season, and of course the links to the right will remain active with the latest data.
| | |
| --- | --- |
| Team Name | FINAL TOTALS |
| Assholes | $1,373.80 |
| Blind Squirrels | -$166.20 |
| Cyclones | -$121.00 |
| Dukes | -$338.40 |
| FuMunda Cheez | $649.76 |
| G-Men | -$79.60 |
| High Tech Rednecks | $179.80 |
| Painful Rectal Itches | $147.20 |
| Pull My Finger | $65.60 |
| Ruffy | $69.64 |
| VEGA | -$34.20 |
| Venwaz | -$261.40 |
Final League Standings:

1
Assholes (10-6)
2
FuMunda Cheez (9-6)
3
High Tech Rednecks (9-7)
4
Painful Rectal Itches (8-8)
5
Pull My Finger (9-6)
6
VEGA (7-8)
7
Cyclones (8-7)
8
G-Men (8-8)
9
Blind Squirrels (7-8)
10
Venwaz (7-8)
11
Ruffy (6-9)
12
Dukes (4-11)
Point Totals Finals:
(top three)
Assholes              2200
FuMunda Cheez         2127
Ruffy                 2122

Power Rankings Champion:
ASSHOLES (56.5)
Efficiency Rating Champion:
ASSHOLES (80.4%)
Toilet Bowl Winner:
RUFFY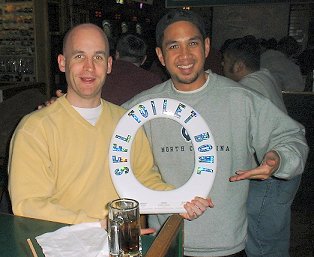 ---
Final Regular Season League Standings
---
Questions? Problems?

E-Mail the Commish!
This site optimized for Internet Explorer at 800x600 resolution or higher.